In the highest part of Jahaz Banda is Katora Lake Kumrat Valley Upper Dir. This beautiful place is in the KPK district of Upper Dir. Katora Lake is pretty calm, but it has a lot of beauty and appeal. Because of this, the water is a clear shade of blue-green. In Pashto, katora means "bowl" (Bowl Shaped). People often want to know where Katora Lake is.
A common question from travellers is, "Where is Katora Lake in Pakistan?" So, the first place to start is in the village of Thal, which is a 4 to 5 hours walk from Jahaz Banda. After a trek, people stay at camps in Jahaz Banda Meadows, where there are a million stars.
The next day, we hiked for 3 to 4 hours to get to Katoralake. From Lahore or Islamabad, it takes at least 4 days to see the lake.
GETTING TO KATORA LAKE KUMRAT VALLEY
There are 4 ways to get to Katora Lake and Jahaz Banda.
1. You can join the group tour of Kumrat Valley and Katora Lake for 4 days and 3 nights
2. Drive your car to THAL, where you can rent a 4×4 Jeep to get to Takki Banda.
3. Take public transportation to THAL and then a 4×4 to get to Takki Banda.
4. You can also get to TAKKI BANDA by motorbike (and there is adequate parking for bikers at the tuckshop)
Note: Your car will go as far as Thall (a kind of base camp for everything in that valley). From Thall, you can rent Jeeps to go to either Jahaz Banda or trip to Kumrat Valley. It is recommended that you park your car in Thall.
KATORA LAKE TREK TRACK TIME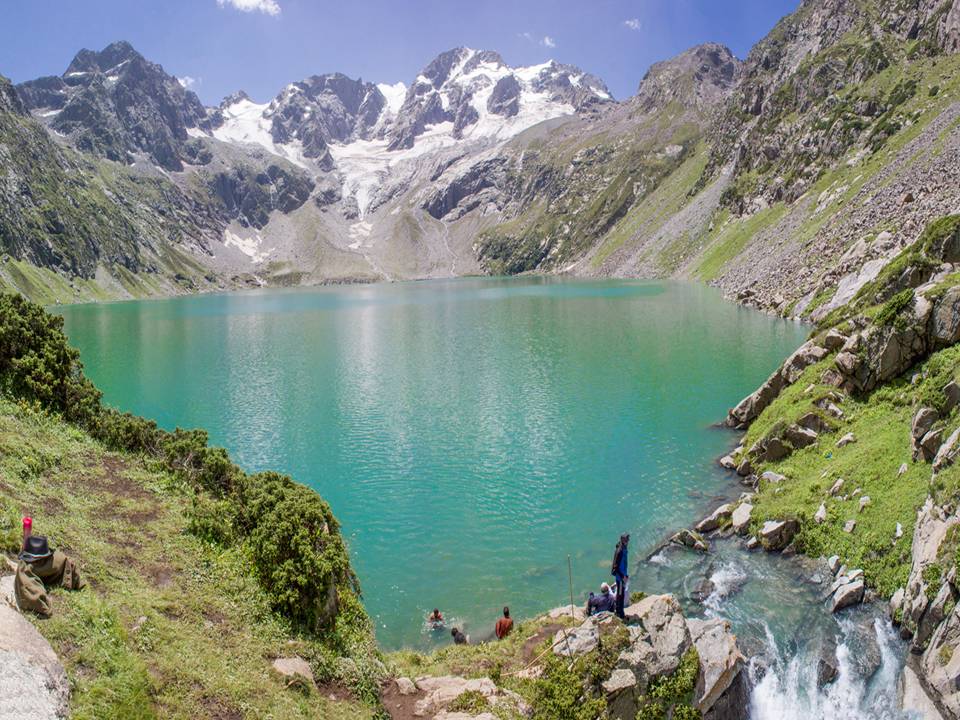 You should still take the jeep to Takki Top, even if you feel strong. From there, the real hike to Jahaz Banda begins, which takes about 4 to 6 hours. Again, it depends on how strong and tough you are. It's a hard hike that's not good for families with young children.
FOD FACILITIES AVAILABLE AT KATORA LAKE
Even though there are tuck shops and kitchen shacks in the area, you should remember that Jahaz Banda (or Kumrat) is a camping and adventure site. So, you shouldn't expect the best services and food options.
But the people who live there will do their best to feed you chicken, dal, rice, and other foods. Instead of being unhappy or complaining about how the food tastes or how clean it is, you should thank them.
During your trekking Kumrat valley, we always tell our guests not to eat roti, naan, or bread because the next day they will be going on a Katora Lake trek, which takes 9 hours to get to and from. So pack some snacks or bring dry fruits, noodles, and other small foods with you.
HOW MUCH SAFE KUMRAT VALLEY & JAHAZ BANDA ARE?
The people in the Upper DIR region are very friendly, and travelling on Kumrat Valley tour or Jahaz Banda is safe. People are really nice when they give you free things as a sign of goodwill. When it comes to camping, there are no wild animals in this area. So you can be sure that no one will bother you.
DISTANCE FROM LAHORE TO ISLAMABAD TO KATORA LAKE
It takes about 680 kilometres to get from Lahore to Katora Lake trip to Kumrat Valley. So, from Lahore, it will take 12 to 13 hours. On the other hand, it takes about 9 to 10 hours to get from Islamabad to Jahaz Banda, which is also called Katora Lake. This is about 460 kilometres away.
WEATHER & TEMPERATURE AT KATORA LAKE KUMRAT VALLEY
The best time to visit Katora Lake and avail Kumrat Valley tour packages is from June to October. But from November to May, a lot of snow fell on the Lake trek.
11500 feet above sea level is how high Katora Lake is.
TOTAL DISTANCE FROM JAHAZ BANDA TO KATORA LAKE
You can go for a walk around Katora Lake with experts of kumrat valley tour guide when you're well-rested and full of energy. About 4.5 kilometres separate Jahaz Banda and Katora Lake. On certain stretches, it takes 3 to 4 hours to climb and cross straight up. As you walk, you will see a lot of big and small round stones.
The distance from Kumrat Valley to Katora Lake is about 22 kilometres to get from Kumrat Valley to Katora Lake. So, it takes about 1.5 hours to get from Kumrat to Takki Top by jeep. After that, it takes 3–4 hours to get to Jahaz Banda.